Please note that all workshops have been cancelled due to the coronovirus restrictions and new dates will be arranged when appropriate
My printmaking workshops include evening sessions, a full day, a weekend course and even a summer school. I can also arrange to run a bespoke session if you already have a group of interested participants. Groups are typically 5-8 people ensuring everyone has sufficient support and I can cater for varying degrees of experience. Please get in touch if you would like to discuss further.
Some images from previous workshop can be seen here
.
Workshop dates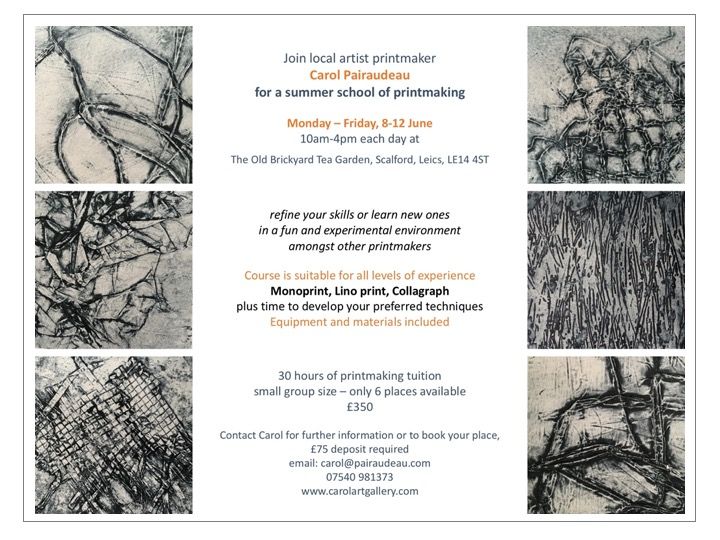 Regular Print Club
First Thursday of each month throughout 2020, 6.30-9.30pm at The Old Brickyard Tea Garden, Scalford, LE14 4ST
£25 per session incl. materials. Please contact me if you would like to come along.
Sunday 26 April 1-4.30pm Inspired by nature...experimental printmaking using aluminium tape
A fun afternoon and a perfect introduction to printmaking, no prior experience necessary. £35
The Old Brickyard Tea Garden, Scalford, LE14 4ST
For further information or to reserve a place please email
carol@pairaudeau.com
What people say...
Thank you, Carol, for giving me such an inspiring introduction to the world of print-making.
Your patience, guidance and expertise have enabled me to progress and gain in confidence far beyond my initial expectations: I have particularly appreciated the opportunity to explore different processes, your support when I have tried them for myself and your positive and imaginative approach when it comes to problem-solving.
I look forward to continuing to work together.
Jill O'Sullivan (novice print-maker)
--------------
Hi Carol
Just to let you know how much I enjoyed the workshop.
I thought it went very well, beautifully planned and 5 pupils was a great number as we all benefited from your expertise.
I came away feeling pleased with what I had done but wished I had more time.....
So let me know when the next one is!
Thanks again. It was simply great!
Kind regards
Diane